5 Ways to Recognize a Great Product Manager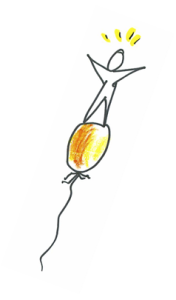 If you've been a product manager for a few years, you already know what I'm about to say. Product management is a tough yet deeply rewarding job. The most successful product managers share these traits:
They are well versed in their products
They stay attuned to their customers
They can lead and communicate a vision equally well with engineering teams and the c-suite crowd
They have a knack for sifting through and prioritizing multiple (and often competing) wants and needs
If that's not enough, the best product managers also share a very unique attitude: they are empathic and curious; they balance a ruthless drive for specificity with a poetic tolerance for ambiguity.
To help make the point that product management is a tough but rewarding job, I wanted to share some factors to look for in a great product manager. If you are a product manager, ask yourself these questions:
Do You Feel Like You Need Bifocals?
Successful product managers approach products from two points of view, one extrinsic and one intrinsic. Both are equally important.
Extrinsically, product managers have a chance to change people's lives. Even if your product doesn't save human lives—and some products do indeed do just that—any good product provides value to its customers. That is a source of pride. Whether you're saving people time, improving their health and healthcare, helping people save the planet by increasing sustainability, reducing the ill-effects of human progress, or making life more enjoyable by connecting people, good products make a big difference in their customers' lives. Great product managers are passionate about and focused on creating valuable products.
Intrinsically, product managers get to learn, evolve and grow along with your product. Even if a product manager starts the job with an existing product, he or she has the opportunity to touch and influence every part of that product's lifecycle: from concept to launch to market maturity and potentially retirement (or re-birth). And the "cherry on top" (something really good that amplifies this) is that product managers get to collaborate with a range of people along the way. Externally, product managers work with customers, competition, suppliers, and external advisers. Internally, they interact with senior leadership, marketing, sales, finance, operations, and so on. The diverse nature of this collaboration is both exciting and challenging.
If you can balance external and internal perspectives with skill and grace, you have the makings of a great product manager.
Is Your Nickname Mr. T?
To be successful, product managers need to be "T-shaped"—a term used to describe people who combine deep product experience with a broad understanding in other disciplines, including development methods, marketing, business analysis, project management, strategy, user experience, and design.
There are as many ways to develop this T-shape as there are product managers. You might come into product management from an outward-facing position, such as business development, strategy, marketing, competitive intelligence, or business analysis. Or you might come to product management from an inward-facing position in engineering, finance, operations, program, or project management. Some product managers have deep domain expertise in the product itself—engineers, operations experts, and even customers. Others might have a firm grasp of the business, market context and customer needs.
Whatever your background, if you are a jack-of-all trades and a master of at least one, you are in the running to be a great product manager.
Can You Rope a Scope?
Great product managers know how harness a stampede of product options to establish an initial product scope. The best also recognize that this vision will likely change as the project progresses. While too much scope creep can derail a project, a little can actually be a blessing in disguise. Want to know more about how to balance product discovery with purposeful incompleteness? Check out my upcoming Project Management Festival 2014 presentation "Rope Your Scope: Reining in Scope Creep," on September 17 in Zurich. Or if you can't make it there in person, take a few minutes to read through this blog series.
Remember, if you can secure a product vision without tying your hands, you might have what it takes to be a great product manager.
Do You Value Continuous Learning?
Successful product managers strive to continually learn more about what their customers value. But you and I know that the best product managers also seek out new product management practices that are of high value to them. This has never been truer than it is today. I expect that over the next five years, product management will develop into a well-regarded, lauded discipline. I also predict that agile/lean practices will be seen simply as the sensible, practical way we go about product management.
As a continual learner, you are likely already experimenting with the practices that whirl around lean startup, customer development, validated learning, collaborative business model generation, design thinking, and using compact visual tools to build shared understand and guide product work. For example, we at EBG already have our own version of a product canvas we've used with our clients. These ideas and tools will become more commonplace as the product management profession continues to evolve.
While we're on the subject of experimenting with new practices, I want to tell you about an "unconference" called Agile Open Jam that I'm hosting on the second day of this September's Project Management Festival 2014. It's the first-ever Open Jam that focuses specifically on the product management community and is brought to you courtesy of a special program of the Agile Alliance. I'll be joined by a other experts in the agile product manager/product owner space, including Adrienne Tan, Rich Mironov, Rainer Grau, Thomas Haas, and Silvio Moser.
At its core, Open Jam is a chance to get together with product managers just like you to discuss the way agile principles and practices can enhance your existing product management skills, and to explore the challenges you face in your day-to-day work. I'm looking forward to reinforcing the simple truth that each of us can learn a tremendous amount just by sharing stories, puzzles, and experiences with other great product managers. (You can see some photos of our Agile Open Jam at a business analysis conference this past November here.)
Are You Equal Parts Visionary and Cheerleader?
Last but certainly not least, great product managers are leaders. The best rally their teams around a clear, concise and crisp product vision and a well-articulated value proposition. At the same time, they maintain and develop close relationships with the customer to help inform and improve that vision. They are always striving to get better information, get it faster, and act on it sooner.
The bottom line is if you know how to discover and deliver a product that delights customers, there's no doubt about it, you're a great product manager.