Agile 2011: Top 7 Agile Highlights and Trends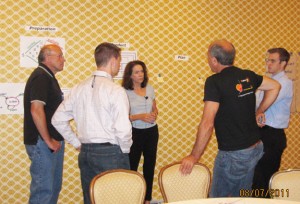 The tenth anniversary of the international Agile 20xx conference, Agile 2011, returned to its inaugural location, Salt Lake City, Utah.   The attendance set a record for being the largest agile conference in the world!
This year's conference, held August 9-12 2011, was attended by 1,600+ people. It was jam-packed with morning-to-night activities. The conference also included events to reflect and celebrate on the 10th anniversary of the Agile Manifesto.
We at EBG Consulting were pleased to have been selected (from over 900 submissions) to present three sessions.
Here are some of highlights and trends:
Agile Requirements/Agile Business Analysis Time has Come: There was much interest in this topic. The half day workshop Mary Gorman and I presented on slicing agile requirements entitled "The Product Partnership: Structured Conversations for Delivering Value" was well attended and highly evaluated. It was generally acknowledged that even when agile teams finely tune and execute core development practices, they often hit the proverbial wall – deciding precisely what to build (the hardest part of software development, to paraphrase Frederick Brooks). That's exactly where agile business analysis can play a vital role!
Business Rules Rule: The testing community and business analysis community are starting to collaborate on specifying and validating business rules. Mary Gorman led an open space session at the pre-conference Agile Testing day on business rules, examples and tests and had a lot of agile testing thought leaders thinking in new ways about this! Mary also presented a conference session entitled "Business Rules Essentials for Quality Software."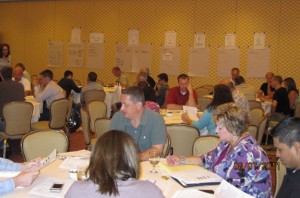 Pull Production and Customer Support Forward: there is growing interest in the round-trip engineering by pulling production support forward by releasing the product frequently, putting the release into the hands of the customer. This is enabled when teams practice continuous integration—frequent integration of code verified with automated tests—and take it a step forward with continuous delivery.
Numerous good sessions on large-scale/enterprise adaption (and organizational change management implications)
Integrate Lean Startup Practices: Growing emphasis on integrating lean start-up ideas on agile projects, especially the need to identify you are solving a real problem for the right customers e.g. Customer Discovery) and then validate that you can sell your product to that target customer (e.g., Customer Validation). Throughout, you do this using very short delivery cycles).
Kanban has Charisma: More and more teams are adapting kanban (flow vs time-boxed) agile practices, or combining scrum with kanban. (An aside: several of our new clients are using kanban.) These client experiences further testify to the value of EBG's agile requirements slicing practices for 'pull' as well as time-boxed delivery models.
Resources:
On continuous delivery:
Selected online readings on continuous delivery:
On lean start-ups:
Selected online readings on Customer Discovery and Validation: