Agile 2014: Two Requirements-Focused Sessions You Don't Want to Miss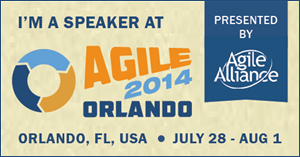 Are you headed to Agile 2014 this year? We are—and we are eager to introduce audiences there to our unique approach to agile requirements.
You'll find EBG's Nanette Brown and me speaking in the Working with Customers track, as we explore ways to discover a product's quality attributes—things like performance, usability, portability, and more. EBG's VP of Quality and Delivery Mary Gorman is co-presenting with Terry Wiegmann in the Testing and Quality Assurance track on the topic of test analysis and how it enables teams to strengthen and produce higher quality requirements on agile projects.
In this blog post, we want to offer you a sneak peak into these sessions, both in terms of how crucial they are for success with agile and also in regard to why they were chosen for this year's program. Oh, and if you can't make it to Orlando, we'll be tweeting throughout the conference, so follow us (@ellengott, @mbgorman, @nanettebrwn) the week of July 28th!
Discovering Quality Attributes
Let's start with the session Nanette and I are doing, "Discover Your Product's Quality Attributes Before They Discover You." We often find teams tend to forget, neglect or delay quality attributes when working on stories. Yet, these same requirements are the ones that often make or break customer satisfaction and impact technology selection and design. Teams that neglect quality attributes tend to face excessive rework/refactoring or, worse, waste in developing functionality that can't be released.
This tutorial hopes to correct this oversight by introducing lightweight ways to uncover quality attributes incrementally as we elicit, refine (groom), and elaborate the backlog. Quality attribute discovery is integrated to the existing team practices of agile refining and planning.
You can read more about the workshop here.
The Power of Test Analysis
Another exciting session will be co-led by our own Mary Gorman, who (along with co-presenter Terry Wiegmann) will introduce new ways to test functional and non-functional requirements. Test analysis is a close examination of tests and the underlying requirements using analysis techniques. Test analysis offers many opportunities to improve the quality of tests and the test plans, verify requirements, and elicit missing or inadequate requirements—all before any tests are executed.
While user stories, wireframes, behavior-driven development and specification by example are all valuable, proven techniques, they can sometimes fall short of eliciting, defining, testing, and fulfilling more elusive requirements. For that reason, Mary and Terry recommend that you add test analysis to your agile toolkit.
This session will teach you how to do test analysis on functional requirements (user, action, data, control) and nonfunctional requirements (interface, environment, quality attribute).
You can read more about this session here.
Why These Topics?
Many agile teams rely solely on user stories, which, while valuable, don't always accommodate the more elusive nonfunctional requirements. We've found that teams that incorporate quality attribute discovery into their existing practices experience much higher levels of customer satisfaction. Along the same vein, test analysis isn't something you hear a lot about at agile conferences—yet incorporating holistic testing early in an agile project is one of the best ways to ensure success.
We hope if you are attending Agile 2014, you'll attend these sessions. If you can't make it, we hope you'll take some time to learn about these valuable tools for improving your discovery and delivery practices. Don't forget to follow us on Twitter during the conference (@ellengott, @mbgorman, @nanettebrwn)—we'll be sharing nuggets of agile goodness all week long.