Agile Product Needs book: Sneak Peek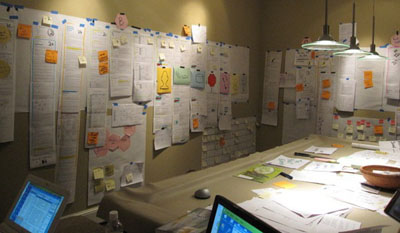 Mary Gorman and I are in the midst of writing a book.  The title is still a WIP (work in process). A couple of contenders are "Agile Product Needs: <subtitle1:> " and "The Agile Product Partnership: <subtitle2>".  We'll be looking for your help on settling on a compelling title – stay tuned, we can use your creative inspiration!
Our goal is to provide practical guidance on challenges agile teams face. Wrestling the "right" user stories out of the product backlog. Slicing user stories into "right-sized" chunks so they are ready for estimating and planning. Deciding on the next high-value product needs for delivery. Planning more than two weeks ahead (realizing you need a longer time horizon). Using acceptance criteria and examples to deepen shared understanding. Exploring product needs in a holistic way. The list goes on.
Who are our potential readers? You are from the business or technical community. You are searching and yearning for agile approaches to analyze and plan your work. You recognize the power of collaborating to deliver value.
We want to share our experiences and techniques so you have useful ways to form and maintain a product partnership.
We're doing our best to use agile to write this book. You know, to "drink our own prosecco" (a tastier version of the dog food expression).
Some of the things we're doing? Pair writing. Lots of pictures. Discussing (dare I say, productive arguing at times?). Co-locating at regular intervals to work. Pomodoros. Simplicity. Iteration. Using an evolving backlog. Refactoring. Retrospectives. LOTS of caffeine.
One of our biggest (and simplest) tools is THE WALL. Yep, just as with a storyboard, from the start of this adventure we've been visualizing our book content on walls. This greatly helps us revise, re-prioritize, discover dependencies, highlight our big ideas, select for value, re-structure, and yes, rewrite.
This page shows a recent photo of the book on the wall.
Please stay tuned for more in upcoming blog posts!