Announcing the release of Discover to Deliver: Agile Product Planning & Analysis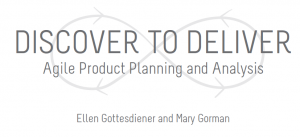 by Mary Gorman and Ellen Gottesdiener
We are pleased to announce our book Discover to Deliver: Agile Product Planning and Analysis is now available.
Discover to Deliver provides the essential planning and analysis practices you need to collaboratively deliver high-valued products. It gives you a visual language to streamline and simplify your planning and analysis. You and your team get practical guidance in how to collaborate continually to discover and deliver an evolving product.
The numbers
In Discover to Deliver, you get:
| | |
| --- | --- |
| 283 | pages |
| 16 | visual symbols |
| 25 | illustrations |
| 7 | meta models |
| 14 | tables |
| 41 | tools & techniques |
| 80 | case study examples |
| 226 | glossary terms |
Useable
The book is designed for ease of use and effective learning. You get a navigation bar on the top of each page so you can visualize where you are within the book. There is carefully designed white space for your notes. The glossary explains 226 terms succinctly. The lay-flat binding makes it convenient to keep the book open while you read and reference. Symbols and color are used semantically as "visual language." The case study conversations and examples are presented in a unique font so you easily recognize them. And the same case study is used throughout the book.
Useful
Apply
Reusable toolkit of Agile/Lean practices
Communicate in ways that transcend role, language, culture
Plan
Devise effective planning sessions
Focus on high-value product needs
Adapt
Use for any size project
Adapt practices for your context, product domain, team
Our Perspective
Grounded in Ellen and Mary's real-world experience working with teams transitioning to, as well as steeped in Agile/Lean practices
Our Inspirations
Inspired by leaders in our community
Our Appreciations
Verified and validated by reviewers with multiple perspectives
Voices
A sampling of reviews just coming in…
"Must read for all software teams that want to build awesome products… To me, the most important parts of the book are how it shows you how to figure out where you are in the project with the "Big -> Pre -> Now" View which is extremely helpful in grounding structured conversations.  Next is the 7 Product Dimensions Options board.  It's a great way to visualize the project and I can see how it could be easily adapted to any project's unique needs….This book describes precisely what delivering a 'quality' product is all about."
"Ellen Gottesdiener and Mary Gorman's new book, Discover to Deliver – Agile Product Planning and Analysis is one of the first to offer an approach that can be used by an extended agile product team to discover and deliver a great product."
"The power this book unlocks, I think, comes from the insights that Ellen and Mary share at the intersection of understanding human nature and team dynamics, appreciating the cadences of incremental development, and leveraging the power of modeling and putting stuff on the walls.  They jump right in, teaching valuable approaches practically, and sharing insights about how they work and when they don't."
"This book works for Agile practitioners in a variety of roles, including testers, BAs, programmers, and managers. It presents information in different ways, so that readers with different learning styles can understand. … have your entire team read this book together, and start experimenting with Agile product planning and analysis practices that will help you delight your customers."
"…these discovery practices are a nice common watering hole where all developers can meet and agree, for the moment, to share in peace. I know you're going to enjoy this book and learn a lot!"
"This book is a powerhouse. From a detailed case study, to an overview of critical concepts, to a discussion of seven key product dimensions, to the structured conversation that guides the communication between product developers and customers, this book lays it all out."
"The case study comes with great illustrations of the various models used to elicit and refine requirements. You feel like you are in the room, learning and growing along with the team. Another section…("Adapt") is devoted to adapting concepts in different circumstances and is full of tips and ideas that will help you reflect on your daily work and improve it."
"This is an important book that provides a new language for us to use when discussing how to create alignment and clarity in our projects and about our products without over-investing in conversations, analysis, or documentation."
"…you develop the courage to ask the hard questions about what you are doing, and, you develop the confidence that you are moving in the right direction. When you need to tune your approach, you know exactly why you doing it and can explain it…"
For more reviews visit our Voices page.
Continuing the Conversation
Visit us at www.DiscoverToDeliver.com to find sneak peeks of the book, help with applying these practices, and more. We're releasing the website incrementally, so visit frequently for more assets such as downloadable visual symbols, events, mappings, and more.