Boosting Confidence through Successful Agile Business Analysis
by Mary Gorman and Ellen Gottesdiener
In our prior blog post we shared nine practices of great agile teams. They are powerful confidence builders for individual members, and even more so when the entire team lives the practices.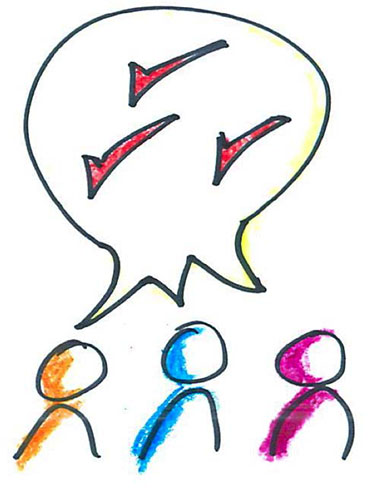 Here, we're focusing specifically on a number of practices that are the hallmark for successful agile business analysis work. Gaining proficiency in these practices is a sure way to increase your team's confidence and help them be successful.
VALUE Keep the product's vision visible! Build the vision collaboratively, using visuals before turning it into a textual vision statement. Amplify the vision with qualitative goals, then quantify the goals with testable objectives. Ground your structured conversations in value as you explore product options, evaluate and select high-value options, and confirm that the options will meet the objectives. Value is the byword of agile business analysis work.
COLLABORATE Partner with your stakeholders. Seek out and actively collaborate with them in all three realms: customer, business, and technology. Learn stakeholders' needs and identify what value means to them. Remember, value is in the eye of the beholder. Agile business analysis activities provide great opportunities to promote cross-functional partnering.
EXPLORE Amplify product discovery with analysis models. Quickly sketched models help you powerfully explore and clarify product requirements. Be sure to select models appropriate for the product domain. Some possibilities are data models, state diagrams, customer journey maps, screen mock-ups, story maps, swim-lane diagrams, and personas. The core agile business analysis principle "just enough—and just in time" is especially important to guide analysis modeling.
EVALUATE Just as you explored product options, you also should weigh the relative value of those options. Balance value with the product's objectives, benefits, risks, assumptions, and costs. Be clear on your planning horizon, distinguishing "needed now" options from "wait till later" ones. Effective agile business analysis results in a holistic, cohesive set of options that deliver the right value at the right time.
CONFIRM Think with a testing mindset. Make requirements "real" by identifying scenarios and examples that exemplify those scenarios. This practice helps you both explore and confirm product requirements. Requirements are validated—and exposed—with examples; tests actualize your examples and verify your requirements. Using behavior-driven development (also referred to as specification by example), such as the Given-When-Then formula or data tables, will help you enlighten and enliven your agile business analysis work.
Maximize the Confidence
Agile work is highly interdependent—in a good way! Successful agile teams realize that although their members represent diverse disciplines, they are all mutually reliant on and responsible to each other to reach their shared goal. An especially compelling interdependency is between agile analysis and agile testing. The six confidence-building practices to succeed with agile testing from Lisa Crispin and Janet Gregory are also valuable for successful agile business analysis.
By its nature, agile business analysis work serves to strengthen healthy interdependencies among people and practices. Together, team members focus on value and collaborate as partners to explore, evaluate, and confirm the desired product. Building the team's competency in analysis practices is a sure-fire way to maximize the team's confidence.
How about you?
We'd love to hear your agile business analysis confidence-boosting tips. Please share by leaving a comment below.