Jelling at Open Jam – Agile Analysis, Product Management
By Ellen Gottesdiener
We're launching something new at next week's Building Business Capability Conference (BBC): An Open Jam on Agile Analysis and Product Management. Whether you are new to agile or have been on your agile journey for a while, this Open Jam offers you a chance to exchange experiences, explore new ideas, and share struggles with like-minded colleagues. The best part? You don't have to miss the regularly scheduled sessions to attend and you suggest and participate in the topics that interest you. Let me explain.

Let's start with a bit of history and context. The Agile Alliance has a new program focused specifically on the agile analysis and product management community. This program (chaired by Kent McDonald and of which I am an active member) fosters discussion among analysts, product managers, and others about their experiences in applying agile principles and methodologies. It recognizes the natural intersection of business analysis and product management. To my mind, other related disciplines such as project management, testing, and user experience have a place in this convergent space (see below). The Agile Alliance program looks for ways to bring these multiple disciplines together.
One of our first outreach efforts is to sponsor Open Jam at BBC 2013—Mary Gorman and I, along with Kent McDonald, Jeffrey Davidson and Jake Calabrese, will act as co-hosts.
Open Jam is an un-conference, somewhat like Open Space or Lean Coffee but with a twist. As with other "un-conferences" within a conference, Open Jam participants suggest the topics and schedule the resulting sessions. But unlike Open Space, these sessions will be hosted by one of your expert hosts, who will introduce the topic, facilitate discussions, and act as a resource. The purpose of any session is for participants to share their questions and experiences—what works, what hasn't worked, and where opportunities might be hiding.
To get your creative juices flowing, here are a few possible topics:
Agile planning and analysis practices
Agile roles, skills and careers
Product backlog/requirements management practices
Doing the right thing—techniques and tools
Doing things right—techniques and tools
Collaboration tools and techniques… and more!
Your interests might be in specific topics as shown in the word cloud below: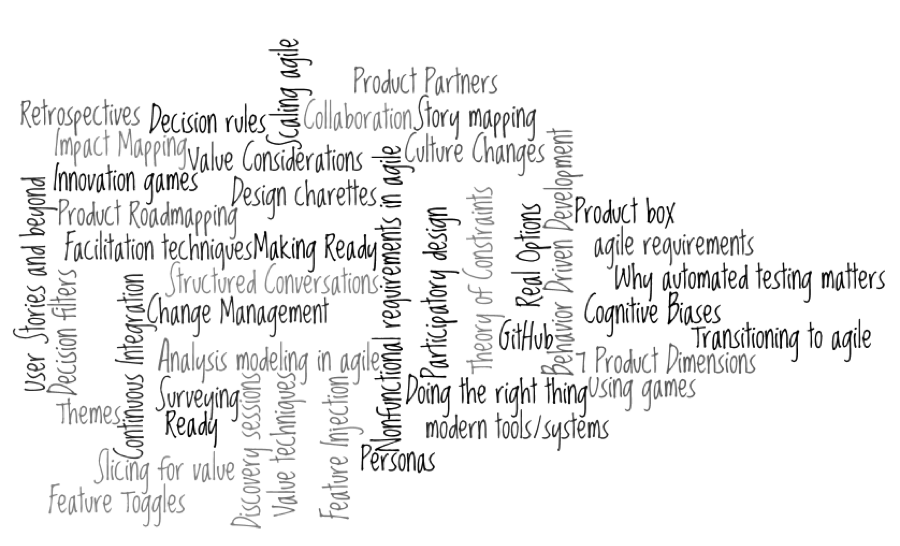 Before and during the conference, you can follow us on Twitter. Look for these hashtags: #BBC2013 #agile #OpenJam.
For more info on Open Jam, check out my recent podcast with Jeffrey Davidson and YAMO. (It is the second part of the podcast; the first is an interview with Mary and me about creating high value user stories.)
Open Jam is new to BBC, but it won't be the first time Mary and I have hosted structured discussions in this area. As early as 2010, we facilitated a large group workshop at BBC called Tough Agile Analysis Questions. And at BBC 2012, we organized and facilitated an informal Birds-of-a-Feather gathering. (If you missed it and are interested in the notes, email me and I'll send them to you.)
If you'll be at the BBC, join us in stirring the jam. If you can't make it, I'll be sharing daily news about what's cooking!
More Background from the EBG Blog
Product Management: The Time is Now
Agile Analysis & Agile Testing: Synergies for Successful Software Solutions
Agile Requirements Exploration with Tester Collaboration
The Buzz
Twitter: #BBC2013 #agile #OpenJam.
Kent McDonald's Blog Post on Open Jam
Jake Calabrese's Blog Post on Open Jam
Jeffrey Davidson's Blog Post on Open Jam
Podcast hosted by YAMO – Ellen and Jeffrey Davidson talk about Open Jam
Related Gathering: #This/Astute
Earlier this year Mary and I were also a part of one of two 2013 events organized by Gojko Adzic. In these one-day gathering, like minded folks (which also include your Open Jam hosts—including Jeffrey Davidson, Jake Calabrese, and Kent McDonald) discussed several practices designed to help teams "build the right thing" as well as "build things right." Attendees included your Open Jam hosts (Jeffrey Davidson, Jake Calabrese, Mary Gorman, Kent McDonald, and me). You can learn more in this thoughtful blog post from Elena Yatzeck.