Product Management Agile Open Jam: A Successful Launch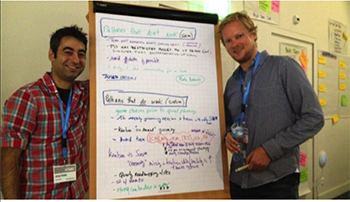 I recently returned from co-hosting the first Product Management Agile Open Jam. What a great experience! Our goal was to "inspire and ignite" the product management community—and from the energy in the space, I'd say we succeeded. To get a glimpse into what it was like, check out these scenes from the 2014 Product Management Festival (PMF) Agile Open Jam in Zurich.
At the Agile Open Jam, participants shared and discovered innovative agile product management solutions.
Kudos and Appreciations
Events like this don't happen without a great deal of planning and support. First and foremost, I want to thank the Agile Alliance's "Analysis and Product Management in Agile" program for sponsoring the event, as well as the organizers of the conference, SwissQ and the PMF Board.
Second, I want to commend the fabulous group of experienced product management gurus with deep agile expertise who joined me in facilitating this event: Rainer Grau, Thomas Hass, Rich Mironov, Adrienne Tan, Teresa Torres, and Silvio Moser. Their infectious enthusiasm was the driving force behind the successful launch of this event.
Last but not least, appreciations to all the Product Management Festival attendees who stopped by throughout the day, engaged in conversations, and shared their experiences using agile/lean to deliver great products.
I hope this will be the first of many Product Management Agile Open Jams. If you would like to see something similar at a future conference or event, please contact me. I'd love to see if we could make that happen.