Product Management: The Time is Now

By Ellen Gottesdiener
We talk a lot in the lean/agile community about the crucial importance of the "product owner"—the Scrum term for the person who has ultimate responsibility for the product. Indeed, this person is the champion of the product—and that's why I prefer the role name "product champion." You need this person for any type of product (software, system, service, or a combination) and for any context of usage (whether your product is sold commercially or is used for internal IT).
The product champion is responsible for researching and eliciting the voice of the customer and engaging other stakeholders as partners in discovery and delivery. As part of backlog prioritization and ongoing planning, the product champion also decides which requirements will be delivered and when, and she manages the overall strategy and tactics for developing the product.
It's a huge responsibility—arguably, the most important one of all.
Product Management: Underserved, Unappreciated, but Vital for Success
In spite of its importance, this crucial work is vastly underserved (and unappreciated) when you look at the number of books, websites, conferences, and communities that exist today. Astounding.
Yes, the discipline of product management is relatively new. And yes, the community is—thankfully—growing, thanks to a convergence of various factors:
• The ubiquitous nature of software
• The lean start-up movement
• The growth in professionalism of related disciplines, such as project management, business analysis, process management, and software engineering. And now, just released: the ProdBoK
• The maturation of the lean/agile development
• The growing number of pCamp (product camp) conferences around the globe
• The hue and cry from engineering organizations about the vital importance of upstream product management
This is good news. Big changes are coming for the discipline, including more conferences focused on product management.
New, Exciting Product Management Conference
If you're a product management professional in Europe, you need to know about an exciting new conference coming up in Zurich, Switzerland—Product Management Festival 2013, the week of 16 September. I'm proud to be one of the US-based ambassadors.
Our speaker line-up for tutorials, conference presentations, and the facilitated sessions is impressive: Marty Cagan, Christof Ebert, Steven Haines, Roman Pichler, and Gabriel Steinhardt, along with product management pros from Xing, Google, Tecan, and more.
I'm pleased to be on the program. I'll deliver a pre-conference tutorial, "The Essential Product Owner – Championing Successful Products." I'll also deliver a presentation on product roadmapping, and I'll facilitate a lean café.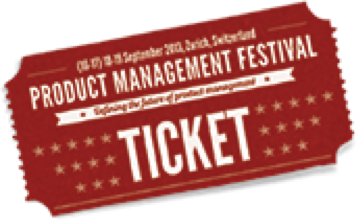 Don't miss this exciting new event in beautiful Zurich. View the entire program here. Get your ticket here.
Whether or not you're attending, be sure to participate in the Product Management Festival's "Most Influential Product Management Professional" survey. The award will be given at the event.
Follow the event using hashtag #PMF13 and @ProdMgmtF.
Hope to see you there, as we continue to learn and define the future of product management!
P.S.
If London is more in your plans for September, or if you want to steep yourself in all things product, check out Mind the Product, an annual one-day event dedicated to "building products customers love."