Project Managers Find New Rhythm at PMI® Global Congress' First Agile Open Jam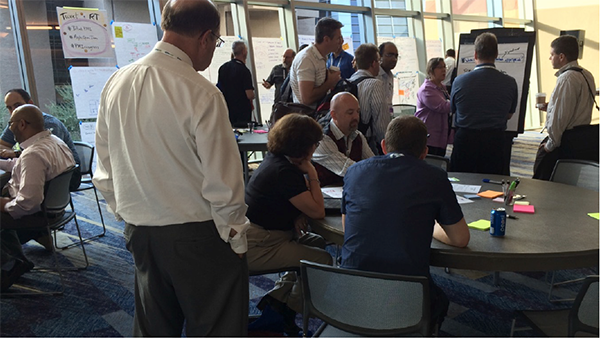 What happens with PMI conference attendees encounter a new way to interact about Agile? We found out when I hosted another first: an Agile Open Jam with global project managers. With the help of some excellent co-facilitators, I conducted an Agile Open Jam at the PMI® Global Congress 2014-North America, with the theme of Business Analysis and Product Management in Agile. (To learn about other firsts I've shared with the product management community, read my prior blog post.) This Agile Open Jam is noteworthy for both its format and content.
Noteworthy Format
PMI conferences follow a traditional format of sessions, each of which is comprised of presentations and keynotes. As many of you know, Agile conferences tend toward highly interactive and experimental sessions along with numerous networking and collaboration opportunities. Open Jams are highly collaborative, as explained in a prior blog. An Open Jam is an entirely different format for the more traditional format of the Global Congress.
Noteworthy Content
Content-wise, the conference included a small number of sessions on Agile. As you likely know, the global project management community continues to develop its interest in and transition to agile/lean project management. (PMI members can find our webinar on Value in PMI's Agile Community of Practice archive.) At the same time, PMI has become attuned to business analysis and is offering a new certification in business analysis. (We at EBG have been providing expertise to PMI as it elevates business analysis within the PMI community.) Consequently, PMI added a new Business Analysis and Requirements track to the Global Congress. Dave Bieg, PMI's Requirements Program Manager, asked me to help design the track. This gave me the opportunity to suggest we do an Agile Open Jam, and with Dave's help, PMI agreed to this unique and innovative format—and content which effectively straddled both the Agile and business analysis tracks.
Summary Report
Our PMI Agile Open Jam attendees spanned a wide range of agile experience and brought a number of unique questions and puzzles. You can get a flavor of the topics and the collaborative atmosphere in our visual report.
Appreciations
Thanks to the Agile Alliance and PMI for sponsored the two-day Jam. And a special shout out to the team of experienced and energetic agile facilitators who engaged so effectively with the attendees:
Thank you, Jeff Adams, Sue Burk, Joseph Flahiff, Mary Gorman, Shane Hastie, Horia Slusanschi, Ram Srinivasan and Barry Young!
As it was the first Agile Open Jam at a PMI Global Congress I especially appreciated the attendees who jumped right in by offering topics and participating in discussions. Their willingness to try something new was inspiriting!