The Eyes Have It: How Visuals Can Energize Your Product Discovery
by Mary Gorman and Ellen Gottesdiener

We facilitate lots of discovery sessions, leading teams to explore, evaluate, and confirm product requirements. A frequent question we hear from agile product managers, product owners, Scrum Masters, and coaches is, "My team is all over the place with backlog items. They can't agree! How do these discovery sessions get them on the same page?"
The key is recognizing that discovery is a lot like learning: Everyone needs to find the best way to address a problem or opportunity—and do it together. To accelerate mutual learning, people need a blend of visual thinking and visual language. Mix in the right space, and you have a winning combination.
Visual Thinking
Visual thinking is thinking "out loud" using sketches, models, diagrams, and pictures. It helps people externalize their thinking, and it provides an anchor for conversing about the problem or opportunity and the possible dimensions of the product.
When you sketch, draw, or diagram, you create a mental model. Visuals provide a foundation for questioning, suggesting, experimenting, expanding, amending, debating, and, eventually, converging. Visual thinking involves action, so it's engaging. And it's fun!
Effective visual thinking does require a variety of skills that may be new to some people: creativity to conceive something new; analysis to explore, evaluate, and confirm; and the ability to give and receive positive criticism to compare options and reach decisions.
In our discovery sessions, visual thinking is a core practice. We use it during product discovery sessions that lead to action for all three planning horizons: the Big-View (visioning), Pre-View (release planning), and Now-View (sprint planning).
We use focus questions to help jumpstart conversation about product possibilities, to imagine and reimagine—and do visual thinking. We might ask, "what are all the chunks of data we need to consider to deliver this valuable features | epic | MMF | story?" This leads to a conceptual data model. Focus questions are a simple secret weapon you have as a discovery session facilitator to lead the team to draw process flows, data models, user interface prototypes and mockups, technical architecture schemas, etc.
Visual Language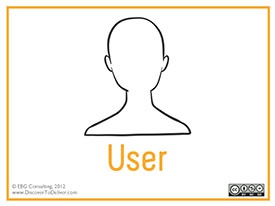 To make visual thinking memorable and sticky, you need a system of clear, simple, and understandable symbols, shapes, and colors. When it comes to colors, be sure to limit the number and use them consistently. Over many years working with teams across the globe, we created a small set of visuals that comprise a visual language for product discovery sessions. For example, each product dimension (such as user) has its own symbol.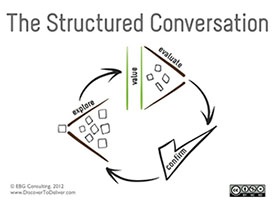 Likewise, higher-level concepts, like the very process of product discovery, are communicated with visuals (such as the structured conversation).
These graphics are licensed under Creative Commons, so feel free to download them here and use and share them in your discovery sessions.
A Space for Discovery
You need an environment where discovery and learning can happen. Find an enclosed area with at least one (but preferably two, or even three) long, uninterrupted wall for visuals. You need enough space for everyone to freely move around and spontaneously interact. Arrange tables where small teams can collaborate before they move their work to the wall. Be sure you have the right materials on hand: plenty of poster paper, index cards, scissors, tape, sticky notes of various sizes, and markers aligned with your visual language color scheme.
Discovery session advocate and facilitator Rene Busch recently shared with us that shortly before facilitating discovery sessions, he double-checks the room setup so the team is "ready to rock and roll." He checks the walls to be sure the stickies will work on them, and he always provides snacks—even for a 90-minute session—to keep energy high. We agree with Rene! This creates a welcome environment for creating, discovering, and—yes—learning.
Unleashing Potential
When you take advantage of visual thinking and visual language, in an appropriate space, you build your team's collaboration capabilities. Visual communication unleashes people's creativity and energy, takes your discovery process to the next level, and, ultimately leads to better product results.
How do you encourage visual communication with your team? Please share your experience below.
P.S. Our next Tips Newsletter features a real-world story about using visual learning in a release planning workshop with a team that was struggling with its backlog. If you aren't currently a subscriber, sign up here.