Timely Topics, Deep Discussions: Agile Open Jam at BBC 2015
by Mary Gorman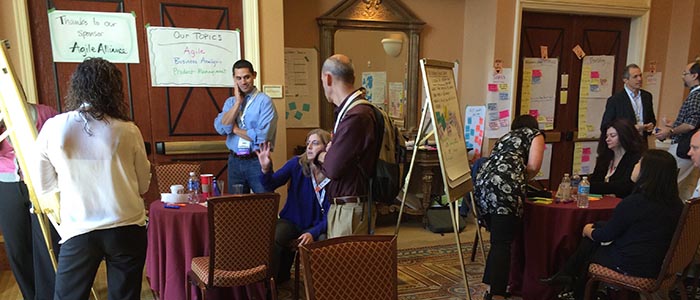 Enthusiasm + experience = deep conversations. And there were plenty of insightful discussions during the Agile Open Jam at the 2015 Building Business Capability (BBC) conference, where passionate practitioners shared and learned from each other.
For the third year in a row, BBC attendees took advantage of an open jam format to better explore a wide variety of agile topics. We at EBG were pleased to continue serving as the organizer and host of the Agile Open Jam at the BBC, the official conference of the International Institute of Business Analysis (IIBA®).
Participants at the jam said there was "great collaboration of ideas and problem solving" and "awesome conversations."
A Visual Recap
You can get a flavor for the collaborative discussions, see topic posters, and read detailed feedback in this summary.
Continuing a Trend
There have been two consistent challenges raised in each of the past three BBC Agile Open Jams:
Puzzles about the role of business analysts on agile teams (including the role of product owner); and
Organizations' ongoing struggles as they transition to agile.
We also have noticed an increasing level of the participants' agile experience. Their real-world struggles and accomplishments enriched the Jam conversations and encouraged the newer Agile Open Jammers.
Thank Yous
Thank you to all who proposed topics, engaged in discussions, created topic posters, photographed, and tweeted. Your energy and interest were contagious!
A special thank you to my fellow facilitators: Michelina DiNunno, Angie Doyle, Ellen Gottesdiener, Isaac Hogue, Shahriar Maghami, Curtis Michelson, and Angela Wick. Your time, your talent in guiding conversations, and your agile experience served the participants well.
Thanks to Adam Kahn and the wonderful folks at Rising Media for working with us to make the space available at BBC once again. And special thanks go out to the Agile Alliance and the Analysis and Product Management in Agile initiative for your continued sponsorship of the Agile Open Jams.