Vuka Business Analysis!
Guest Blog by Angie Doyle
"Business Analysis Rising" was a fitting theme for this year's Business Analysis Summit of Southern Africa. The title was a play on "Africa Rising" – a term used a few years ago to describe the expected growth and development in Sub-Saharan Africa. According to the IIBA South Africa Chapter, it is time to tackle the future of the business analysis profession head on—the age of business analysis is dawning!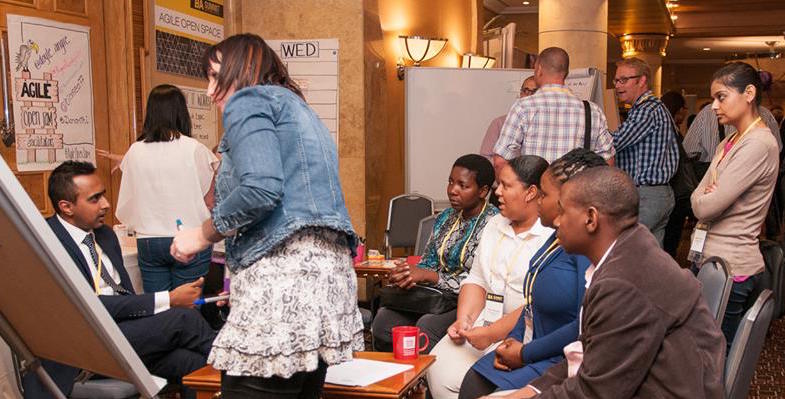 This year, the event was transformed from a "conference" to a "summit". What is the difference? Well according to Conference Chair, Ryan Folster, "…a conference would view a presentation as a one directional transfer of knowledge, a summit looks at a presentation as the start of a conversation that continues beyond its delivery…"
One way to start those conversations was the exciting addition of the Agile Open Jam, sponsored by the Agile Alliance Analysis and Product Management in Agile Initiative. The Agile Open Jam is a "un-conference" where session topics are chosen by delegates and the conversations are facilitated by experienced Agile practitioners.
At the first ever South African (possibly even African) Agile Open Jam, we found conference delegates were extremely interested, although perhaps a little bit shy, in proposing topics. While Open Space sessions are common at Agile conferences, this format is still foreign in the business analysis space.
The 3 major themes across the Jam's two days were:
Transitioning from a traditional BA to an agile BA
Agile Architecture
Collaboration between Waterfall (Traditional) and Agile teams
While we expected a common theme to be the transition from a traditional BA to an agile BA, Agile Architecture surprised us all! It certainly shows that Business Analysts are shaking off the "template zombie" label and becoming the strategic partners we were always meant to be! The conversations on collaborating between traditional and agile teams prove that many organizations are well on their journey towards creating great environments that deliver awesome products. A very encouraging message!
Check out a visual summary of the conversations here.
I would like to thank the Agile Alliance and its Analysis and Product Management in Agile initiative for their sponsorship and support. A special thank you to my fellow facilitators: Ryan Reddy, Biase De Gregorio, Antoinette Coetzee and Dananthi Arnott, shown in our visual summary report along with many delegates.
And finally, thank you to all the delegates who shared their puzzles, stories and challenges!
Vuka Business Analysis! (Translation from Zulu: Arise Business Analysis!)