Amplify Learning with Mind Maps
by Mary Gorman
I've long been an advocate for visual learning and discovery tools. Models, maps, prototypes, along with the use of symbols and color, aid in understanding complex ideas. So what I saw in a recent Agile Requirements training class I taught in Tokyo, Japan—hosted by our training partner OGIS-RI—took my love of visuals to a new level. One attendee, Hidehiko Akasaka, was especially engaged. To my delight, he was using mind maps to help him organize and amplify his learning!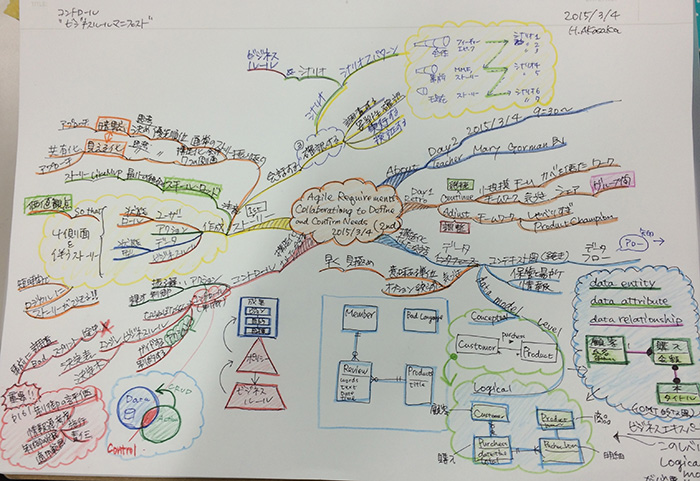 I use mind maps for a variety of topics. For example, recently I "wrote" a book review using a mind map. Yet, for me, Akasaka-san takes mind maps to a new level!
His colleagues shared that Akasaka-san has a reputation for his quick, clear, and creative way of organizing various concepts. So they were not surprised that while he was actively and energetically participating in all of the class activities, Akasaka-san was also creating a series of detailed mind maps. He visualized many of the Discover To Deliver™ practices, exercise results, and examples of the tools and techniques used during the training class.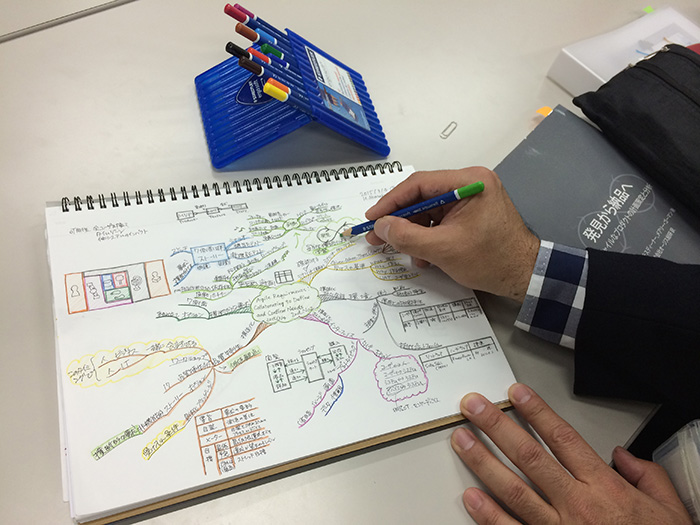 Not only did Akasaka-san combine Japanese with English text, he also creatively and colorfully added snippets of the class's requirements models and a number of the visual language elements from EBG's Discover To Deliver book. In the photo, to the right of Akasaka-san's drawing hand you can see the Japanese version of Discover to Deliver he was using as a resource. (See our February 6, 2015 blog posting for more details on this translation.)
Akasaka-san explained that he uses mind maps during meetings and training to focus and organize key points. Afterwards the mind maps serve as reminders and references. Inspired by Akasaka-san I now encourage attendees in our training sessions to draw their own mind maps to deepen and personalize their learning. And of equal value, to use their mind maps when applying the learnings back at their jobs.
What's your experience with mind maps or other visual learning aids? We'd love to hear from you.