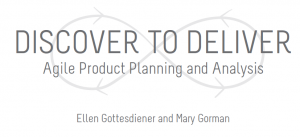 by Mary Gorman and Ellen Gottesdiener
We are pleased to announce our book Discover to Deliver: Agile Product Planning and Analysis is now available.
Discover to Deliver provides the essential planning and analysis practices you need to collaboratively deliver high-valued products. It gives you a visual language to streamline and simplify your planning and analysis. You and your team get practical guidance in how to collaborate continually to discover and deliver an evolving product.
Continue reading