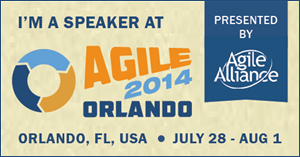 Are you headed to Agile 2014 this year? We are—and we are eager to introduce audiences there to our unique approach to agile requirements.
You'll find EBG's Nanette Brown and me speaking in the Working with Customers track, as we explore ways to discover a product's quality attributes—things like performance, usability, robustness, and more. EBG's VP of Quality and Delivery Mary Gorman is co-presenting with Terry Weigmann in the Testing and Quality Assurance track on the topic of test analysis and how it enables teams to strengthen and produce higher quality requirements on agile projects.
In this blog post, we want to offer you a sneak peak into these sessions, both in terms of how crucial they are for success with agile and also in regard to why they were chosen for this year's program. Oh, and if you can't make it to Orlando, we'll be tweeting throughout the conference, so follow us (@ellengott, @mbgorman, @nanettebrwn) the week of July 28th!
Continue reading